"Lifting Myself and Others to Achieve Greatness"
If your a mum with young kids and teens, as I was running around completing innumerable tasks; going to work; running a business, you'll do well to read on…
This morning I woke to the thought of Meditation and the action of actually paying attention.
Then I thought about Words and the Words which have life, Words that have the power to change lives. To use positive words or phrases, believing and confessing them.
Reading is very important and having a schedule to follow too, it keeps us on track in our learning. However we should also take the time to ponder on what things we have learnt.
It can be compared to Fast Food, chewing quickly but not taking the time to savour the look; smell; tastes etc… Gobbling it down which we soon learn causes indigestion, leading to health problems.
It is said that we should maintain quality and not quantity. So the more quality knowledge and quality understanding we have, the more we will  effectively gain.
We all know that having read something, without understanding it can be very daunting. It is like eating a plate of unseasoned rice without a topping!
Understand to meditate,
Meditate to understand.
Meditate is to chew over something, a synonym ruminate.
We see how sheep graze more quickly in the morning, and then they fully chew and digest the food later in the day, known as chewing the cud in cycles all day.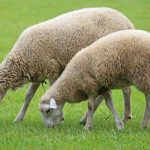 So ruminate, means to think again and again, or reflect upon.
Bind the Word around your Neck!
The Hebrew interpretation of Neck is in fact the throat! To ruminate in the throat!
גַּרְגְּרוֹת gargrowth (gar-gher-owth') n-f. the throat (as used in rumination).
So the Word is to be ruminated upon, pondered, thought of, meditated upon and reflected on again and again.
Positioned around the throat guards what comes out of it and what goes in it!
Lets take the time to feast on Quality Words guarding the entry points of not only the throat, but also the eyes, ears and thoughts.
Lets Meditate on whatever is true, noble, right, lovely, pure, admirable, excellent and praiseworthy!
Comment below and let me know what you do?
If you need to make time to Meditate, are motivated, dedicated and open minded individual with a go getter mentality and you're not quitters and want to make extra income, as I am, take that "Stepin2SuccessNow" and click on 'Meet my Mentors'.
The internet Lifestyle has helped me to achieve more free time with my family. If you're looking for a great way to earn an income take a Look at Six Figure Mentors.
I hope you enjoyed this, if you have then, share it with your family and friends.
Videos coming soon where you'll be able to subscribe to my channel for more insights.
You can keep up with me daily on FaceBook, Instagram and Twitter at Stepin2Success
I hope you have a fabulous day!